Simply Raw Dog Feed
Simply Buffalo w/ Pumpkin & Kale
Regular price
$89.95 CAD
Sale price
$89.95 CAD
Unit price
per
Sale
Sold out
Simply Buffalo w/ Pumpkin & Kale is our newest raw dog food recipe! This new food packs a powerful protein punch, and is made with locally raised John Volken Grass Fed Buffalo. Perfect for dog's with sensitivities, this low-fat, lean protein food option will be your new go-to raw of choice. The proof is in the bowl!
This recipe consists of 90% John Volken Buffalo, Buffalo Organ Meat (Heart & Liver), 10% Pumpkin & Kale, Apple Cider Vinegar
Nutritional Breakdown (Dry Matter Basis):
Protein: 68.12%
Fat: 27.61%
Calcium: 1.82%
This product is sold in 20lb boxes, portioned out to 1/3lb frozen pucks. For wholesale opportunities or orders over 100lbs, please email simplyrawdogfeed@gmail.com
Delivery option will be presented at checkout
Share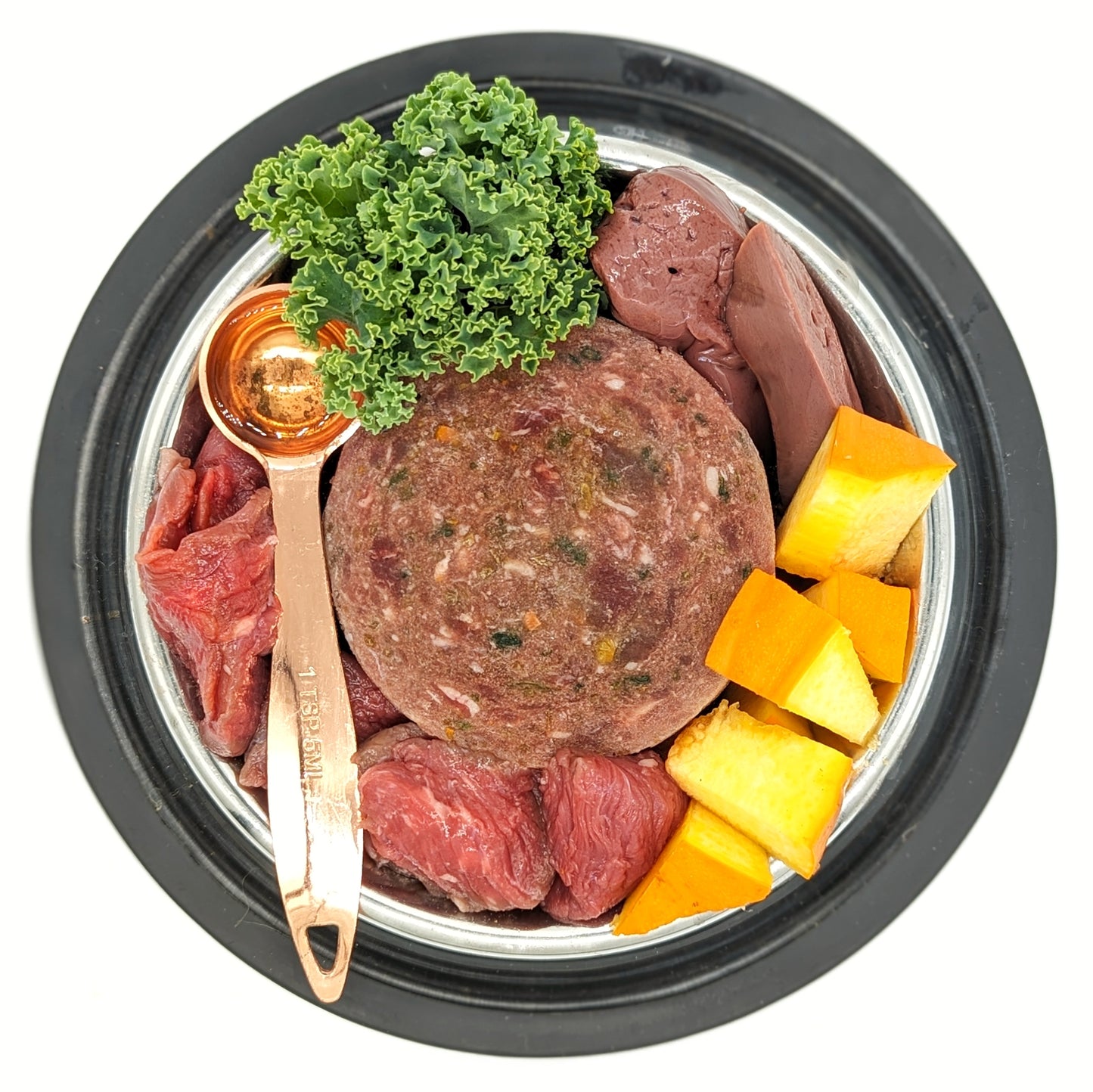 The Doods Like It
I can't say I've tried it myself, but the boys enjoy it and it looks like good stuff to me. Based on the calcium content, I would tend to give this to adult dogs as other Simply Raw menu selections have more calcium better suited for growing pups.
So glad to have game meat
Simply Raw team really values feedback. Customers including myself want game meat, and shortly after they source and offer rabbit and buffalo, and at such a reasonable price. Quality and value is truly unbeatable.
Awesome new flavour, my dog loves it.
Buffalo Pumpkin and Kale
Love that you have added new proteins. I have Frenchies and they don't do well on chicken and turkey so it's nice to have other options.
Would love to see pork, venison or kangaroo